Scale, sizeable pizzas, and learning to trust
Toby MacLachlan, 15 September 2022
1 year into Verisk…
Since becoming part of Verisk a year ago this month, Ignite has grown and grown up. Headcount has grown 64%, recurring revenue is up 76%, and we've brought on some big new clients.
One of the challenges of scaling up is to maintain a company culture and knowledge base even as so many new people join. To achieve this we've created lots of small teams (up to 6 people) that operate independently. This means we can slot new people into teams and they get lots of face time with experienced hands, and knowledge is passed more intensively.
It turns out this idea isn't new. Brooks' Law states that "adding manpower to a [late] software project makes it later". And everyone knows anecdotally that 3 people working together are way more efficient than 10 people working together. The diagram here illustrates why.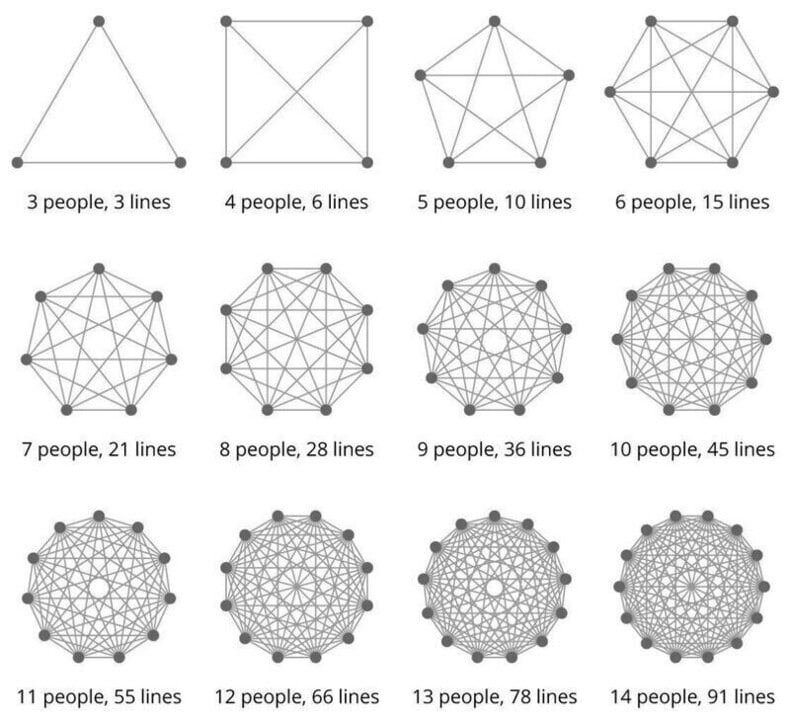 In our Ignite teams of 6 people, there are only 15 lines of connection, a manageable number for day-to-day interactions. Add another 6 people and those 15 lines explode to 66 lines: people don't talk enough within the team (there just isn't time) and knowledge is lost.
Not only did Fred Brooks get there before me (in 1975 in fact) but so did Jeff Bezos.
The rule that this (seemingly parsimonious) billionaire espouses is that no team should be so large that it cannot be fed by two pizzas. It's the same thing really: teams are small, agile and empowered to make decisions. Micro-management is the enemy of progress.
And what do all these maxims boil down to? Trust.
In a small company, you know every one of your staff so you trust them. In a larger company, you don't know everyone, so it's harder to trust them (that they're working hard, making good decisions and doing the right thing). The temptation is to gather as much data as possible, like timesheets and reports, create committees, etc. But this is just micro-management by stealth.
If you trust your core team, then trust the people they trust. They'll thank you for the show of faith, and the time they get back by not having to do endless time reporting or memos.
And if your team isn't working hard, isn't making good decisions and you don't know about it… well, you're stuffed anyway.
To get ideas direct to your mailbox, please enter your details below: