Uncategorised
1 year into Verisk…
Since becoming part of Verisk a year ago this month, Ignite has grown and grown up. Headcount has grown 64%, recurring revenue is up 76%, and we've brought on some big new clients.
One of the challenges of scaling up is to maintain a company culture and knowledge base even as so many new people join. To achieve this we've created lots of small teams (up to 6 people) that operate independently. This means we can slot new people into teams and they get lots of face time with experienced hands, and knowledge is passed more intensively.
It turns out this idea isn't new. Brooks' Law states that "adding manpower to a [late] software project makes it later". And everyone knows anecdotally that 3 people working together are way more efficient than 10 people working together. The diagram here illustrates why.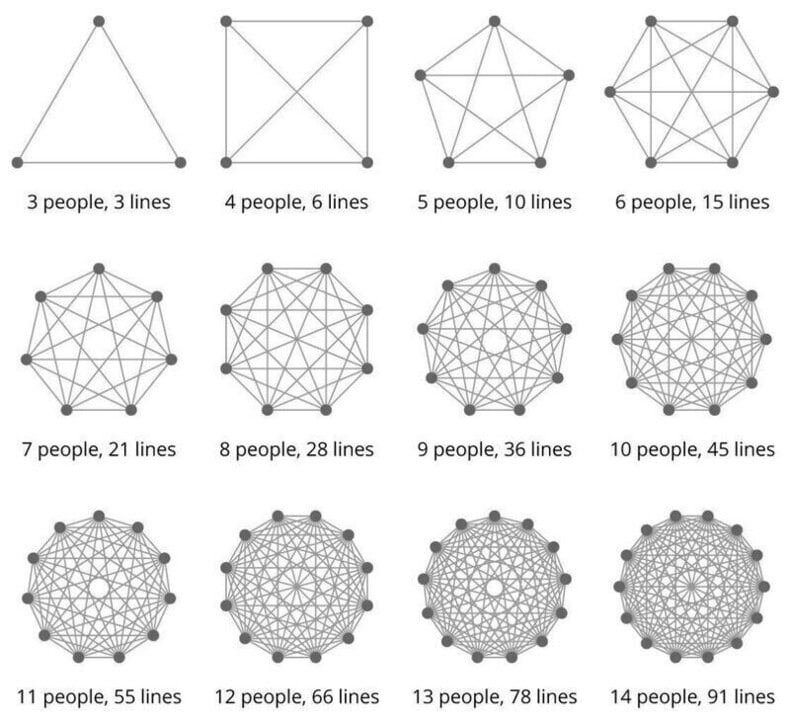 In our Ignite teams of 6 people, there are only 15 lines of connection, a manageable number for day-to-day interactions. Add another 6 people and those 15 lines explode to 66 lines: people don't talk enough within the team (there just isn't time) and knowledge is lost.
Not only did Fred Brooks get there before me (in 1975 in fact) but so did Jeff Bezos.
The rule that this (seemingly parsimonious) billionaire espouses is that no team should be so large that it cannot be fed by two pizzas. It's the same thing really: teams are small, agile and empowered to make decisions. Micro-management is the enemy of progress.
And what do all these maxims boil down to? Trust.
In a small company, you know every one of your staff so you trust them. In a larger company, you don't know everyone, so it's harder to trust them (that they're working hard, making good decisions and doing the right thing). The temptation is to gather as much data as possible, like timesheets and reports, create committees, etc. But this is just micro-management by stealth.
If you trust your core team, then trust the people they trust. They'll thank you for the show of faith, and the time they get back by not having to do endless time reporting or memos.
And if your team isn't working hard, isn't making good decisions and you don't know about it… well, you're stuffed anyway.
What a difference a year makes. MGAA 2021 was mired by covid, masks, and low attendance. 2022 was buzzing, with a notable step up in attendance especially from more direct channel players and providers. The agenda was geared around optimism and harnessing the current cyclical peak in interest in MGAs.
BIBA vs MGAA
Ignite has always felt BIBA was it's home-ground conference, given we licence a policy administration platform. This year the MGAA felt a lot like home given how many MGAs are going direct and harnessing self-service PAS solutions to go to market B2C with low cost overheads rather than via brokers.
Verisk
Verisk – our parent company – were also exhibiting. As usual the event was an opportunity to learn more about the breadth of products within group and the surprising number of MGAs and carriers already using Verisk products and data sets.
Insurtech
There was the usual proliferation of 'insurtech' offerings. It again made me think that Ignite is no longer an insurtech, and reinforced in my mind that being specialist in certain product types is critical for insurtechs. Of course it's possible to move sideways sometimes, but the effort is high and the timescales long. It has taken Ignite a good 5 years to become a market leader in providing a policy admin system for motor products for UK brokers; building out pet and home have taken almost as long again. The idea of breaking into something totally new like SME is chilling!
MGA optimism
Another recurring theme of the conference was optimism. MGAs are cyclically popular. Right now they're on the rise again. There are two reasons for this:
1. brokers want more agile partners as insurers have become bogged down with recent regulation and pricing reforms
2. there are really good B2C self-service technology solutions out there these days which means MGAs can go direct without needing a massive headcount or brokers.
These two points are in addition to the perennial benefits of MGAs in terms of better ratios and specialism that insurers lack.
All in all the conference was a great success – credit to the organisers. Ignite will certainly now becoming a member and exhibiting in 2023…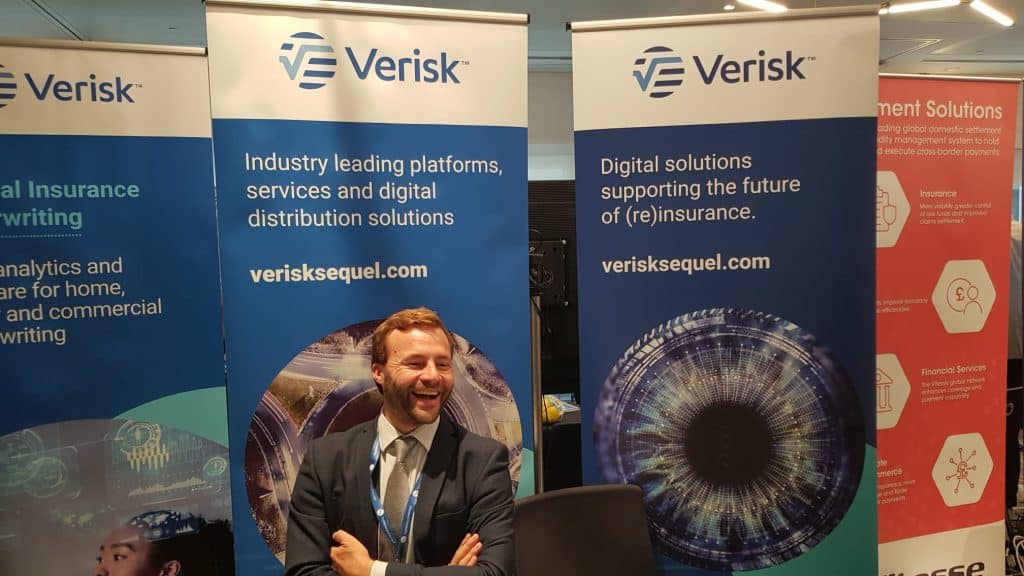 STEVEN MCMANUS
Apprentice Software Engineer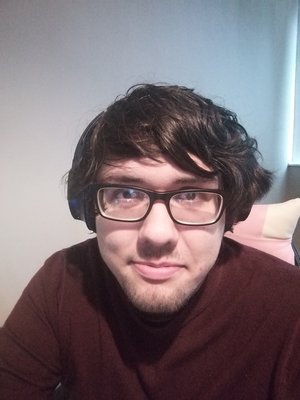 Steven is an Apprentice Software Engineer here at Ignite!
Learning and working on the job as an apprentice, Steven plays a pivotal role in Ignite's growth by bringing fresh, innovative ideas to the development of our services and software systems.
As one of our 'newbies,' we've asked Steven to answer a few questions for our latest Employee Spotlight piece…

What are you most looking forward to with regards to your new role at Ignite?
Over the next few years I'm excited to grow and develop my competency within the role.
I am thrilled to work alongside the rest of the Ignite team to innovate and improve upon the existing systems in place as well as expand our software horizons to maximize the efficiency of both our product and processes.

What drew you to Ignite?
Ignite is a frictionless collaborative customer-driven company that has welcomed me and my fellow newbie peers in a way no business has before.
The company culture was a definite draw for me and that remains unchanged to this day.

How do you define success?
As a pretty dedicated online gamer I'd personally consider success to not be winning or losing, but the enjoyment and learning process along the journey there.

Get to know more Ignite newbies in our Employee Spotlight Series:
Christian Wright, Head of Business Development
Matt Snape, Head of Sales and Marketing
Interested in an apprenticeship at Ignite? Click here to find out more.
MATT SNAPE
Head of Sales & Marketing at Ignite
Matt joined Ignite this month as Head of Sales & Marketing, tasked with supercharging Ignite's marketing strategy and sales pipeline, and spearheading commercial opportunities that leverage Ignite's position within the Verisk group.
Matt has extensive experience (over 25 years in fact) in providing technology solutions to insurers and brokers in the general insurance and the London Market insurance marketplace. Having led teams at Charles Taylor Insurtech, SSP, and CGI, Matt brings a wealth of experience and expertise to Ignite.
Carrying on from our first Employee Spotlight on our new Head of Business Development, Christian Wright, we've also asked Matt a few questions so we could get to know him a little bit better…
What are you most looking forward to with regards to your new role at Ignite?
To help expand the business footprint in the market and helping Ignite become a brand leader.
What difference do you hope to make?
To help win new and larger brokers and use the Verisk brand to help achieve this.
What drew you to Ignite?
The opportunity to take an already established business and go to the next level of business growth.
3 words you would use to describe Ignite
A disrupter, agile & an opportunity.
What do you hope to achieve in the next 2-5 years at Ignite?
To realise significant revenues both top line and bottom line.
Tell us a random fact about yourself (that you're willing to share)
I was in the army for 6 years.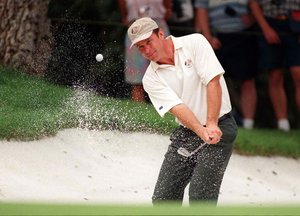 If given a chance, who would you like to be for a day?
The prime minister
If you could do another job for just one day, what would it be?
Professional golfer
How do you define success?
Where everyone in the organisation benefits.

If you could only drink one beer for the rest of your life, what would it be?
Not beer – but Gin!
Three words to best describe you
Fun, driven, respectful
What are three career lessons you've learned thus far?
Some patience, to listen & look for the business value.
What are your hopes for our industry?
To continue to look to improve the way insurance adds value and not seen as a necessary evil.
Connect with Matt on LinkedIn!
I've just spent two days at the Insurtech insights conference in London.
First off, the conference was better than I had expected. It had maybe 50 exhibitors and four easily accessible stages with genuinely varied and well curated content. There was a fair amount of the usual corporate billy bollocks of brand ambassadors wheeled out to spout generic nonsense about the importance of 'data' and 'digital' as a thinly veiled sales pitches for their company's services.
But a lot of the content was good. Companies such as Collective Benefits and Bought By Many gave honest and insightful war stories about the reality of building a tech enabled business in insurance. Some of the smaller companies there with less presence in the UK also made some powerful pitches in the 10-minute technology feature slots.
Here are my two main conference takeaways:
Insurtech is starting to be something I don't want to be associated with quite so directly
The advantage of experience is becoming apparent – and unproven tech is easier to spot than ever before
Why don't I like insurtech so much any more? Well lets start with the word: what is Insurtech? It could be defined as anything technological in the insurance arena. This is a pretty useless definition as almost everything done in insurance involves some degree of technology and therefore everything is insurtech. It's easier to define things in opposition: insurtech is the opposite of legacy tech. I think that is how people think of insurtech – as the new and bleeding edge of insurance technology.
And that was what the conference was full of: companies with great ideas and great tech, almost none of which was proven at scale. All of them claiming it's possible to launch their product in a matter of days or weeks, and that it is product (i.e. line of business) agnostic. I'm not a buyer, but if I was I could think of no bigger turn-off than those sort of promises. It just screams naivety and lack of enterprise experience. Having taken Ignite from a concept on the kitchen table to processing millions in quotes and premiums every month, I know firsthand the unexpected growing pains of scaling up an insurtech and the utter impossibility of launching a genuinely market-ready and integrated system in days.
So that is the reason I'm not sure I want to be associated quite so directly with insurtech anymore. I want to be associated with a new middle ground (let's call it midtech for want of anything better). I'd define it like this: a core insurance system that is not AI, not no-code, not blockchain, not embedded, but which is proven at scale, with an established customer base, cloud-based, API ready, and specialist in particular product lines. Way better than legacy, able to integrate with insurtech, but not insurtech.
Ignite will be exhibiting at the BIBA Conference in Manchester in May, on stand D80.
We'll be showcasing our policy administration system to brokers, and talking about our recent acquisition by Verisk and the benefits it brings to our clients, existing and future.
Ignite has integrated and launched a new premium finance provider for Yoga Insure: OneCall Premium Finance.
OPF puts customers at the heart of its offering offering a service that can often be fraught with confusion for customers, and admin-heavy for brokers. With OPF, customers can amend their own direct debit details and payment dates within their policy management dashboard and see a full schedule of payments. All updates occur in real time and call centre agents can manage direct debits including arrears within their policy administration system, rather than needing to go to a third-party system, saving brokers time and simplifying the process for all.